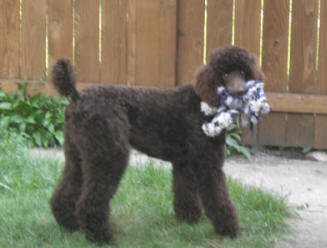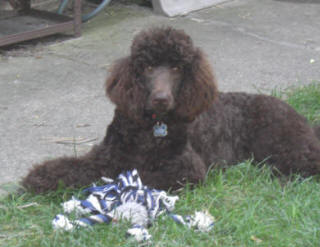 HELLO FROM DAN IN ILLINOIS
We were ready for a new dog, and had decided to get a larger breed that could be part of our life in the suburbs of Chicago and enjoy our lake cottage in Michigan. The characteristics of a standard poodle intrigued us, and we talked to our vet about the breed. He recommended that we speak to one of his clients who has had two standard poodles. We did, and what we heard sounded too good to be true. Smart, loyal, great with kids, wonderful water dogs, easy to train, and no shedding. We had to look into this.
We found Cheryl Ann Young on the internet. A wonderful lady who has a passion for this breed. This is not a business for her, it is a way of life. She had a 6 month old chocolate boy who needed a home as much as we wanted to give him one. A few days later and an airplane flight from Minnesota to Chicago and we had our dog. We had spent the previous days trying to think of a good name. When he stepped out of his crate he looked like an Oliver, and the name has stuck.
To say that we are pleased with Oliver is an understatement. Where has this breed been all our lives? Oliver loves people. He is very affectionate with us, our extended family and with our many small nieces and nephews. House breaking has been extremely easy, and we have begun basic obedience. Walking on a loose lead and sitting are working out very well. Sit-stay and down are next on the list.

A few days after he arrived we went to our lake cottage. He loves the water as much as we had hoped that he would. Our place is "doggie heaven": water to swim in, trees and grasses to smell, room to run, and other dogs and people to meet. He is clearly in his element when we take him to the cottage.
We took him for his first grooming to a couple of ladies in the area who have been caring for poodles for decades. They were astounded at the quality and density of his coat, and his wonderful disposition. They could not say enough good things about him. And they have seen many poodles over the years. They thought that we had a winner. We know that we do.
Oliver has taken up residence in our hearts. We are very grateful for having found Cheryl Ann Young, and for having Oliver as one of the family.