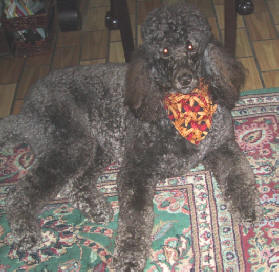 JOAN FROM ALABAMA WRITES

IN SEPTEMBER OF 2003 OUR BEAUTIFUL POODLE GIRL CAME OFF THE PLANE AND JUMPED RIGHT INTO OUR ARMS. THE BOND WAS INSTANT!! AND OUR LOVE FOR EACH OTHER CONTINUES TO GROW DAILY. TO THINK HOW WE FRETTED ABOUT THAT FLIGHT FROM ALASKA FOR HER, BUT SHE WAS IN PERFECT SHAPE AND READY TO START HER NEW LIFE WITH US.
GOD BLESSED US ( AGAIN) WHEN HE PUT US IN TOUCH WITH BEN-CHERS STANDARD POODLES. CHERYL ANN YOUNG IS AN WONDERFUL PERSON AND BREEDER.
I KNOW AKC CALLS THEM "STANDARD" POODLES, BUT THERE IS NOTHING
"STANDARD" ABOUT OUR ISABELLA..........MY HUSBAND MIKE SAYS THEY SHOULD BE CALLED "EXCEPTIONAL" POODLES.........AS IT CERTAINLY DOES DESCRIBE OUR FINE BEN-CHER'S POODLE GIRL!