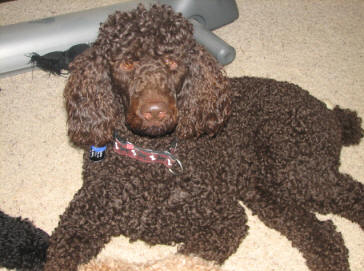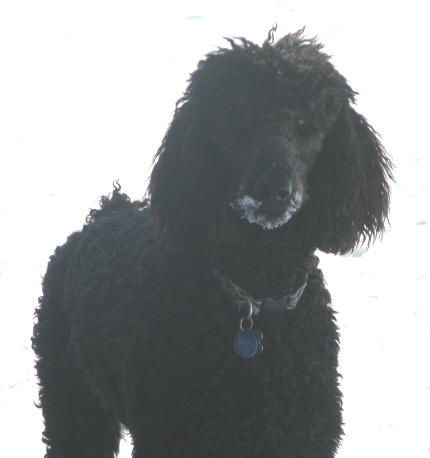 CARRIE FROM WISCONSIN WRITES
When I decided to get another dog my only call was to Cheryl Ann at Ben-Cher's. I really wanted a chocolate standard poodle and when I spoke with Cheryl Ann I found out that she had one that was gorgeous, gorgeous, gorgeous!! I knew that I had to have him BUT I found out he was a "stud" dog. Thinking that breeding was something I would love to do at some point I decided - why not now? So with Cheryl Ann's help, e-mails, and phone calls, she assured me that her chocolate male was the right dog for me. As nervous as I was I took the leap and it was the best thing that I ever did!!
Cheryl Ann was definitely not wrong! When I picked up Cash at the airport and took him out of the crate - I thought the workers there were going to take him home too!! They loved him and he loved the attention. His temperament and charm were all that Cheryl Ann had described to me PLUS so much more. He was the hit of the airlines - it was like getting a big chocolate bear. He was so calm and relaxed and when he got home he played with his fellow poodles like he knew them all his life. Cash is always a hit at the Vet's. They love when he comes in and he often gets 'special' treatment because he is so loving and always invites an extra hug from everyone there. Cash also made a splash this past summer at Green Bay Packer Training Camp where everyone that went by wanted to know more about him. Today Cash is now 70 pounds!!! He has the most wonderful charm and it so gorgeous that I am lucky to have him. Cheryl Ann was right in everything that she promised to me about him and I am lucky to have him.
Of course, if you start a breeding program you have to get Cash a girlfriend. Cheryl Ann assisted me with obtaining a female from Ben-Cher's that would complement Cash but also keep in mind the temperament that I was looking for. Once again Cheryl came through and after a long journey through Wisconsin - I finally got to meet Cheryl Ann in person in Rice Lake, WI to add Cash's 'girlfriend' "Pazzo" to the group. After Cheryl Ann made the long journey to Wisconsin to drop Pazzo off to me and my niece Celia - we were off for our long journey back to Burlington, WI. Pazzo slept the whole way and cuddled with both my niece and I all the way home. She hasn't stopped cuddling yet ten months later. Whenever I feel a dog at my leg when I'm walking I know its Pazzo keeping me close-by. She is now fifty pounds and still growing and she is quite the love and definite buddy to Cash. > Though-out this whole experience I can definitely say that I was very lucky to have met someone like Cheryl Ann to not only assist me with what I was always dreaming to do but to also gain what I consider a friend. Cheryl Ann has called me to just say hi and see how the pups are doing and she has shared many stories with me regarding her experiences when taking my phone calls. After talking with her it was easy for me to trust that the dog (or in my case dogs!!) that I was getting from her where not only good dogs, but dogs that met my needs. I am glad to know her and I look forward to her future help and assistance when Pazzo & Cash welcome their new litter in 2008!